We tested over 40 swim goggles to bring you the best swim goggles for open water swimming goggles and triathlons. Read on for our expert guide and conquer the open water with confidence.
When it comes to swimming in open water, the right swim goggles can make all the difference in the world between a successful swim and a struggle session with the elements.
The best swim goggles for open water swimming should give you clear vision in the water, allow you to sight, reduce glare, protect your eyes from the sun, and be comfortable for extended wear.
In this guide to the best open water swimming goggles, take advantage of our years of swimming in outdoor pools, open water, and in bright indoor pools to discover the perfect swim goggles for you.

We'll look at the pros and cons of each and also share a list of buying tips to help you choose the open water swim goggles that match your goals and budget.
Let's jump right in.
The Best Swim Goggles for Open Water Swimming
Here is an overview of the top swim goggles for triathlons and open water swimmers.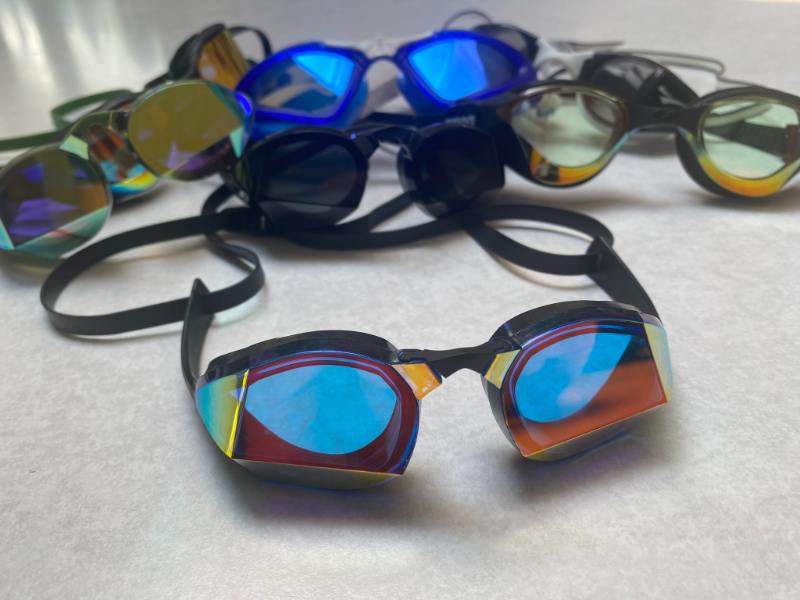 Later, we will take a more detailed look at each set of swim goggles, including pros and cons, where to buy, things to know when shopping for the right set of swim goggles for you, and more.
---
TheMagic5 Swim Goggles
⭐ Best overall swim goggles for open water swimmers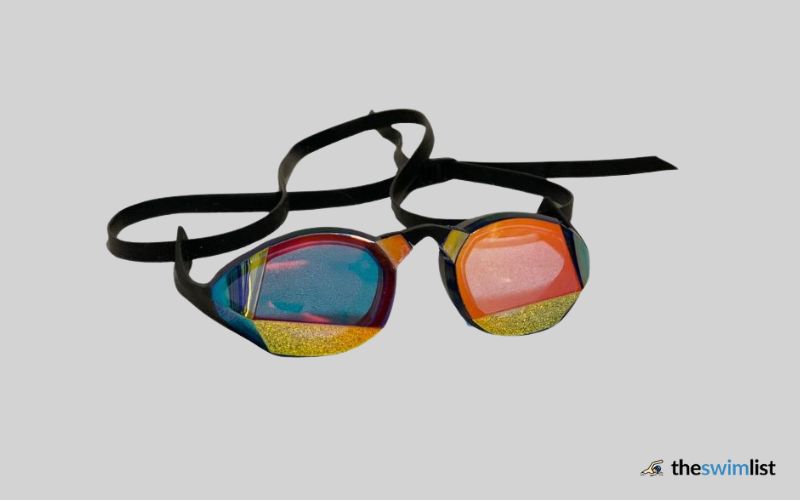 TheMagic5 Swim Goggles are a truly unique and game-changing swim goggle. Each set of TheMagic5 Swim Goggles are custom-fitted to the specific dimensions of your face. Seriously.
The way it works is like this: you order the goggles, scan your face using an app on your smartphone, and 1-2 weeks later, a set of 3D-printed goggles show up at your house.
The Magic5 Swim Goggles represent a huge jump forward in swim goggle technology, and because the goggles don't have to be worn very tightly, they are far more comfortable and leak-free compared to traditional swim goggles.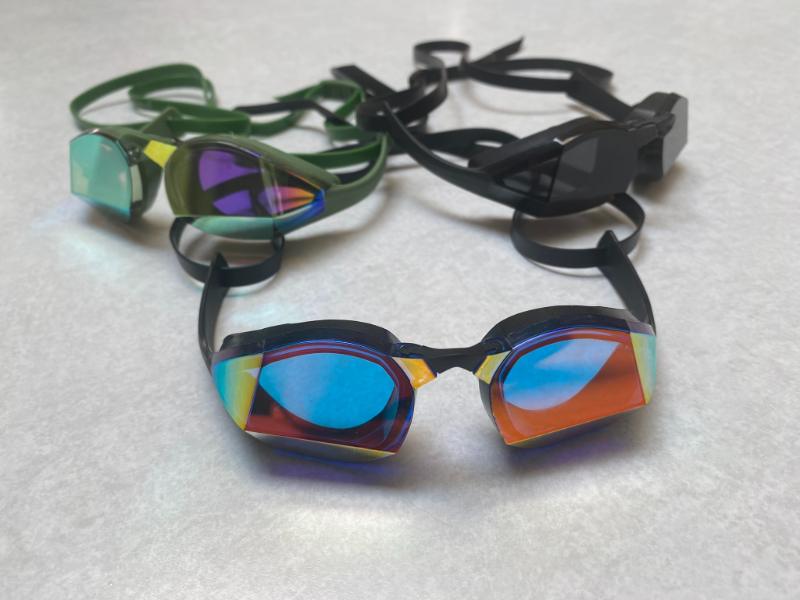 Which is perfect for open water swimmers who put in hours of training per day in the water.
TheMagic5 goggles can also be worn indoors and outdoors. The goggles have a polarized lens, which eliminates pesky glare when swimming in open water or at the local outdoor swim pool.
Available in 11 different colors and tints (with new limited edition colors periodically), the goggles have a leak-free guarantee.
The goggles are a little pricier than most even top-tier swim goggles, but in this case, you get what you pay for with a set of truly customized swim goggles.
---
Arena Cobra Swipe Tri Swim Goggles
⭐ Best anti-fog open water swim goggles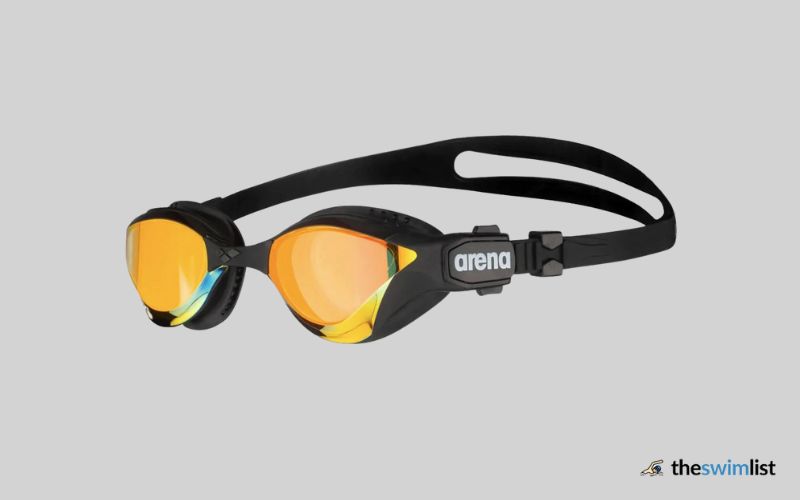 For the competitive triathlete or open water swimmer who wants a set of fast swim goggles that offer exception anti-fog protection, the Arena Cobra Swipe Tri Goggle is perfect.
Let's start with how awesome these swim goggles are for open water swimming. They check the boxes when it comes to the essentials, including a polarized lens, low profile gasket, extra wide lens (for excellent peripheral vision), and a silicone skirt that sits gently on the skin, reducing water leaks.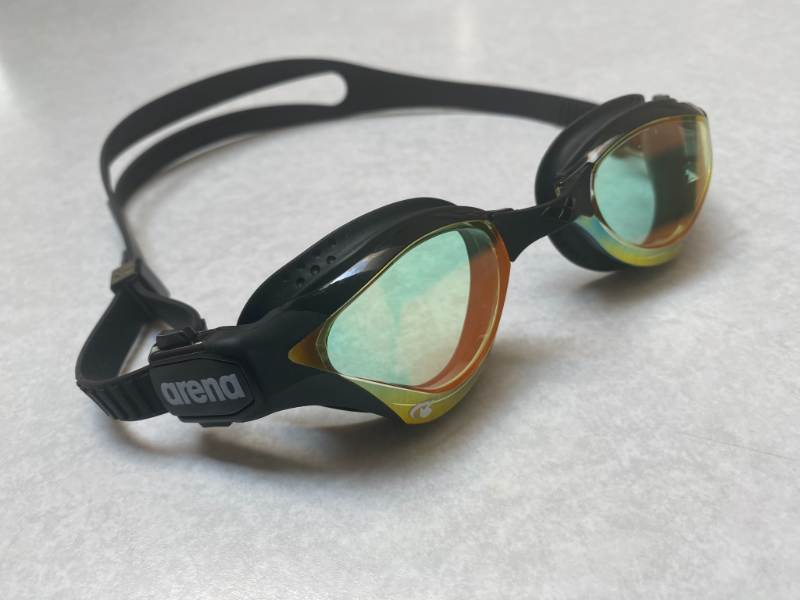 The Arena Cobra Swipe Tri Goggles also have head straps that can be adjusted from the side of your head, ideal in the "worst case scenario" where you need to quickly adjust head strap length mid-swim.
But where the Arena Cobra Swipe Tri's stand apart from the competition is the proprietary anti-fog technology in the goggles. When the lenses start to get foggy, gently wipe the inside of the goggle lenses with your finger five times, and the anti-fog coating resets. This also makes them far and away the best anti-fog swim goggles on the market.
Sounds like space magic, I know, but I've used the Cobra Swipe Tri and the pool-version, the Cobra Swipes, for the past couple of years and I am still on my first set of each.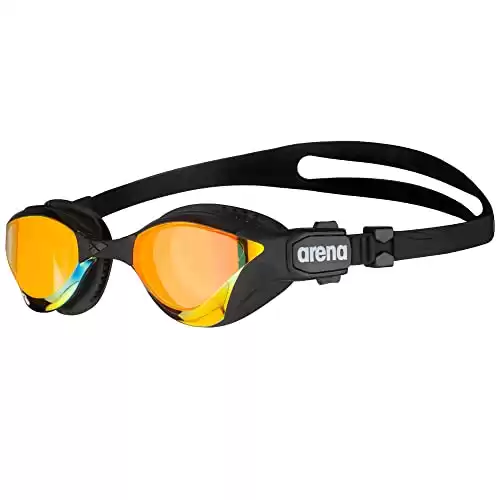 ---
FINIS Smart Swim Goggles
⭐ Best open water smart swim goggles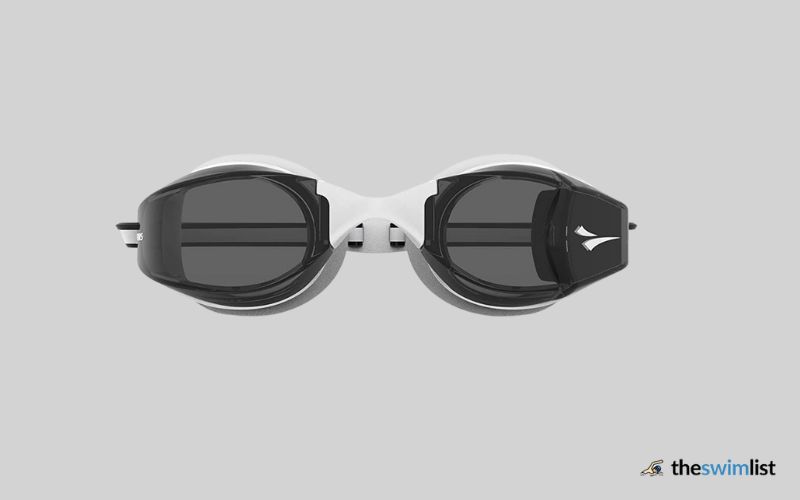 The FINIS Smart Swim Goggles are another ground-breaking swim goggle. In recent years, goggle technology has gotten really, well, techy, with heads-up displays, real-time metrics, and all of the information you could need from your swim workouts.
The FINIS Smart Goggle is an excellent choice for open water swimmers as you can see at a glance how long you've been swimming, stroke count, and more through the heads-up display in the goggle lens.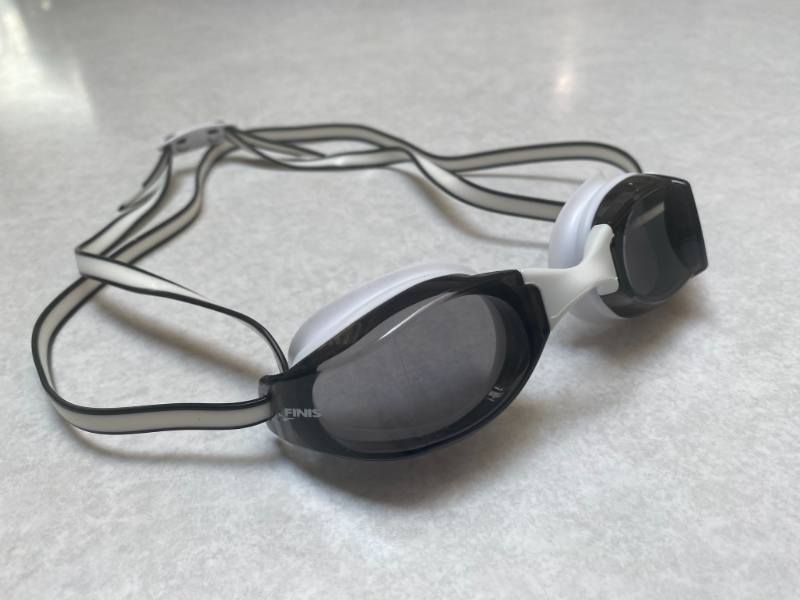 I prefer the FINIS Smart Goggle versus the FORM Smart Swim Goggles, the original swim goggle with a HUD, as the display doesn't take over the full goggle lens. When you want to check in with the workout stats, look a little bit to the left, and you will be able to see the metrics.
Additionally, you can swap out different tinted goggles with the FINIS Smart Goggle, as the HUD can be taken out of the goggle housing. With the FORM Swim Goggles, the housing and the heads-up-display are one and the same.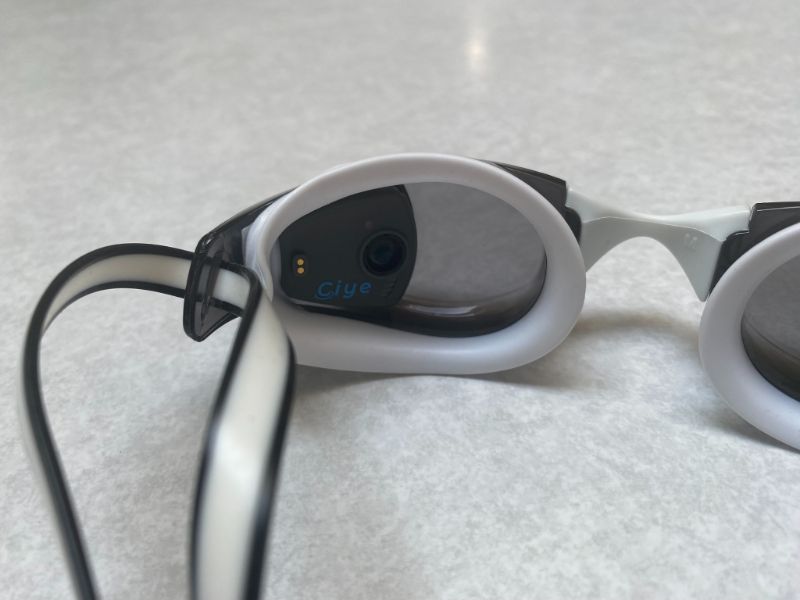 Speaking of which, the data you get from these swim goggles is incredible. It breaks down more data than you could possibly need over the course of a swim practice, whether it's indoors in a "regular" sized pool or out in open water.
Using the FINIS Smart Goggle when doing open water swimming is limited in terms of data compared to pool swimming, as there are no walls/turns to delineate breaks/splits in your swimming.
---
Aqua Sphere Kayenne Swim Goggle
⭐ Best open water swim goggles for beginners
The Aqua Sphere Kayenne is one of the most popular open water and triathlon swim goggles. The extra wide gasket gives excellent peripheral vision, the curved lenses are polarized and UV resistant to eliminate glare and sun exposure, and the Kayenne's head straps are easy to adjust at the side of the gasket.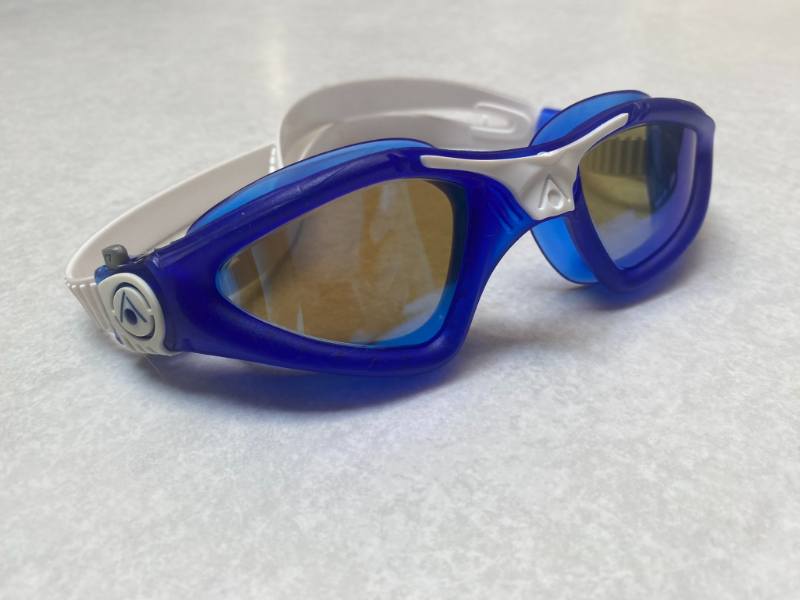 When it comes to open water swim goggle reviews, the Kayenne knocks it out of the park, with over 1,000 five-star reviews on Amazon. People constantly rave about the comfort and leak-free performance of the goggles.
Each set of Kayenne Swim Goggles comes with anti-fog coating to reduce the goggles from fogging up, and the scratch-resistant lens extends the life span of the swim goggles.
The Aqua Sphere Kayennes come in over a dozen colors and are an excellent swim goggle for the beginner and experienced open water swimmer, alike.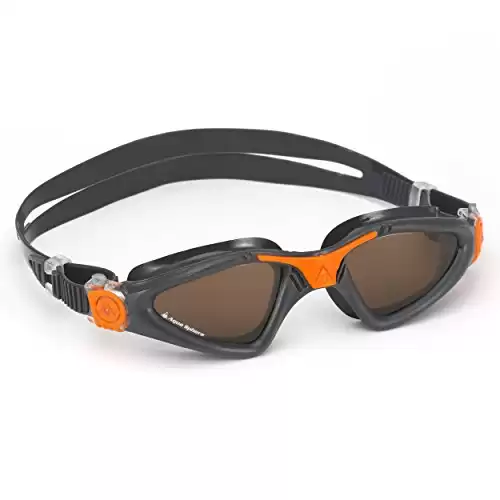 ---
Zone3 Vapour Polarized Revo Swim Goggles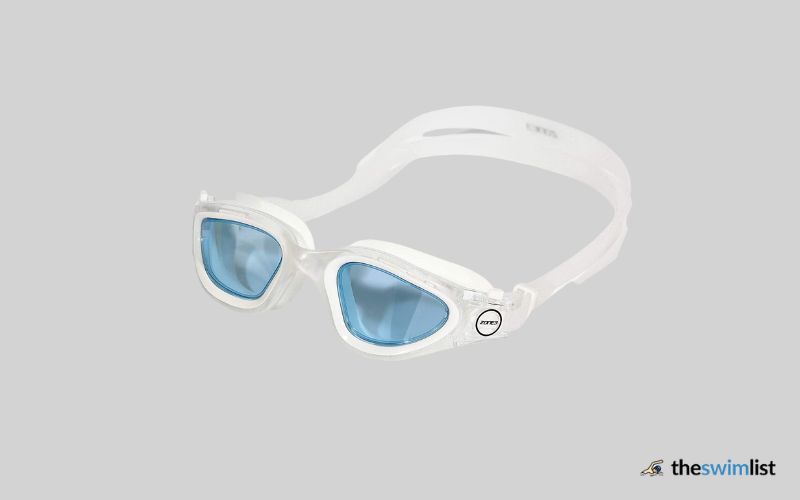 Zone3 is a specialized triathlon brand that makes all sorts of gear for triathletes, including wetsuits, buoyancy shorts, and yup—open water swim goggles!
The Zone3 Vapour Polarized Revo's are a sleek and comfortable set of swim goggles.
The soft silicone skirt creates a gentle and leak-free goggle fit against your skin, and the polarized lenses keep glare to a bare minimum and protect your eyes from UVA/UVB exposure.
Being able to adjust your swim goggles easily is crucial for people who spend long bouts of time out in the water, and the Zone3 Vapour's adjustment system is one of the best I've tried.
While they are great-looking swim goggles, and those who like them really like them, there are quite a few complaints about strap durability among the reviews of the swim goggles.
The Vapour's are available in a wide range of colors and tints from both Amazon.com and the folks at SwimOutlet.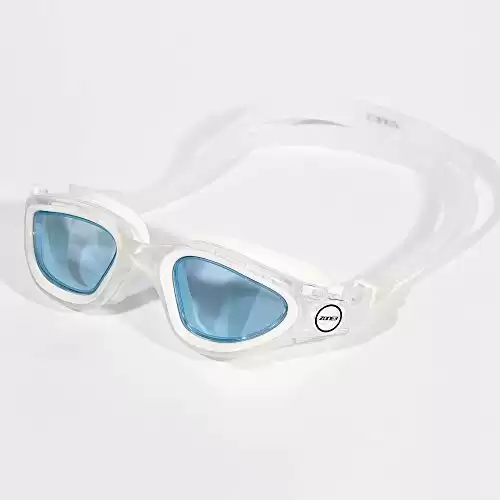 ---
TYR Special Ops 3.0 Transition Swim Goggles
⭐ Best open water swim goggles for custom tint
TYR is a popular swim brand based out of California that makes swim gear and apparel for swimmers of all levels, including Olympic champions with its line of tech suits, as well as swim goggles for open water swimming.
The TYR Special Ops 3.0 Transition Swim Goggles are a really cool set of swim goggles as they adjust the tint level automatically based on how much light there is outside.
For darker and indoor pools (or dark and cloudy days out on open water), the lens fade to a more clear lens. When outside, and its bright and sunny, the tint on the goggles darken. No adjusting required!
Of course, the TYR Special Ops 3.0 Transition Goggles are more than a set of blinds for your eyes. They have an extra wide gasket so that you can sight efficiently. The silicone gaskets give that secure, leak-free goggle fit. And the easy-adjust head straps make finding that perfect, comfortable fit easy.
While reviews of the Special Ops 3.0 Transition Swim Goggles are almost universally favorable, reviewers note that they aren't as durable as other open water swim goggles on the market, and that the one-piece gasket can make a comfortable fit across the nose a challenge.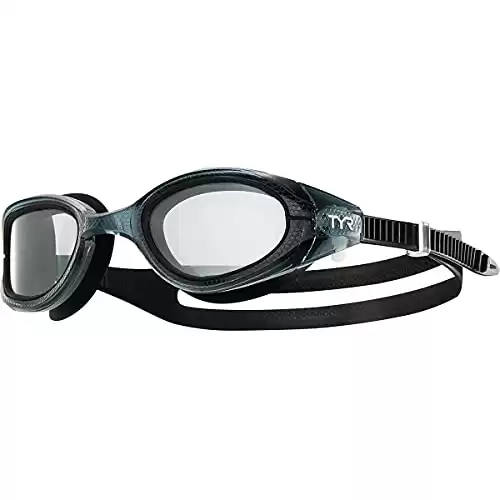 ---
How to Choose the Perfect Swim Goggles for Open Water Swimming
When choosing swim goggles for triathlons and open water swimming, consider the following factors before hitting "add to cart":
Fit and comfort.
Look for a set of swim goggles that will sit comfortably on your face during those long open water swims and pool workouts.
While most open water swim goggles don't have adjustable nose pieces, at a minimum they should have adjustable head straps.
The Magic5 Swim Goggles take the "fit and comfort" thing to another level with a custom-shaped gasket and multiple nose pieces.
Lens type.
Outdoor swimming requires polarized lenses to reduce glare that can leave your eyes straining.
Most swim goggles have UVA/UVB ray protection. Also, if you are going to be swimming indoors and outdoors, consider a goggle that combines a mid-tier tint with a polarized coating.
Anti-fog.
Swim goggles vary in their ability to slow fogging in the lens. The Arena Cobra Tri Swipe stands alone in terms of anti-fog technology, with a rejuvenating coating.
Other goggles like the Magic5, Aqua Sphere Kayenne, and the TYR Special Ops 3.0  Transition Swim Goggles will require an anti-fog spray to replenish the anti-fog coating over time.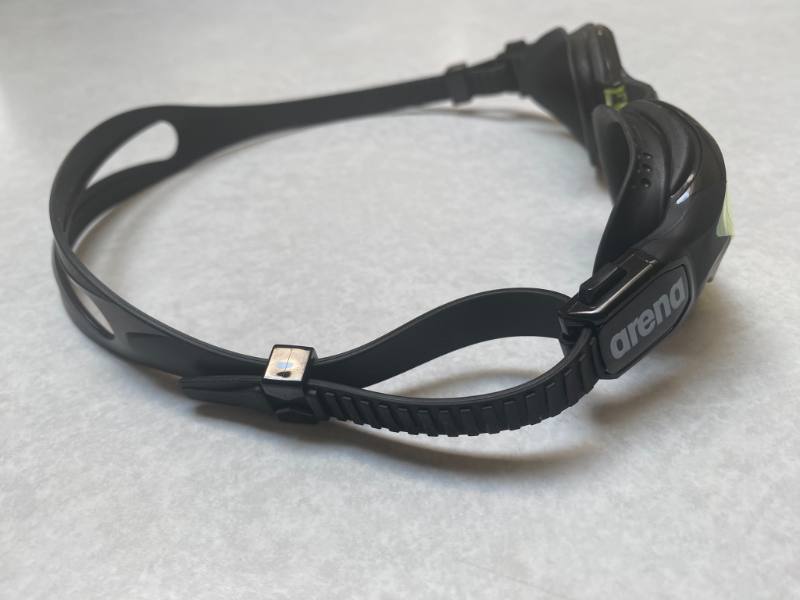 Head strap adjustability.
The right open water swim goggle for you is adjustable, in that you can tighten the head straps a little bit on race day (to make sure they stay firmly in place while in the bubbling throng of the pack) or loosen them up a little for long-distance swims to reduce headaches and racoon eyes.
Open water and tri swim goggles have head straps that are adjustable at the side of the head.
Peripheral vision.
A key difference between open water and pool swim goggles is the field of vision through the lens. Open water goggles have a larger frame and gasket to give swimmers maximum peripheral vision and help better sight when out on open water.
Price.
Naturally, budget and cost is a concern when choosing a new set of swim goggles. The cost range of the goggles in this list is fairly extreme, with the cheapest goggles costing $30ish while the FINIS Smart Goggles cost $199.
Choose a swim goggle that matches your goals and how often you plan on using them in the water.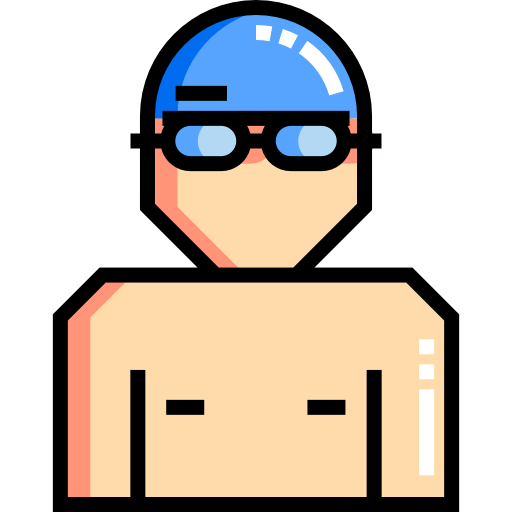 Beau Cormier is a former NCAA I swimmer, US Open National finalist, and swim nerd. When not swimming or working for a data company, you can find him running the trails of the Pacific Northwest with his wife and dogs.