Looking to up your swimming? Check out our guide to the best swim paddles, highlighting the pros and cons of each, and leave your best times in your wake.
Are your swimming strokes and pulling motion weaker than a kitten's meow? Do your arms feel like they're flailing around like spaghetti in the water?
Fear not, dear reader, for I have the solution to all your aquatic woes: swim paddles!
Swim paddles can turn you from a floundering fish into a sleek and speedy dolphin (or at least give you a fighting chance against that over-competitive swimmer in the next lane).

Swim paddles are also great for building strength, improving technique, and also mixing up your swim workouts.
But with so many swim paddles on the pool deck, it can be tough figuring out which swim paddles are right for you and your swimming.
In this guide, we will dive into the world of swim paddles and find the best ones to take your swimming to the next level.
Let's get started.
---
The Best Swim Paddles for Swimming Laps
Speedo Power Plus Swim Paddles
⭐ Best overall swim paddles for getting stronger in the water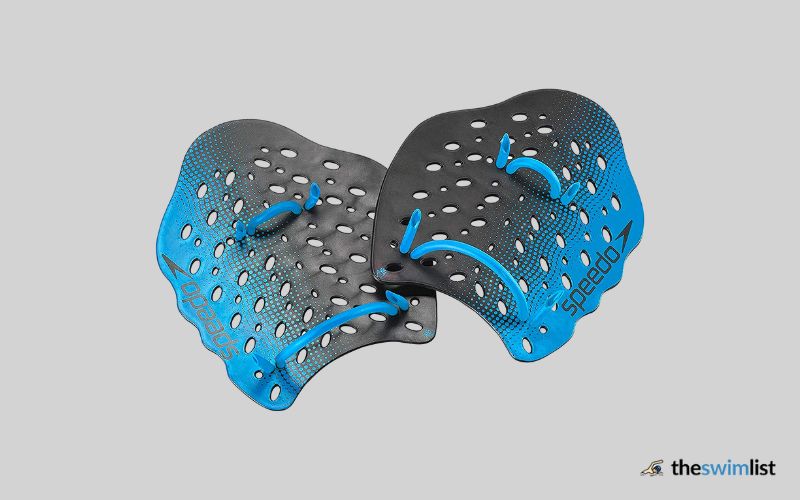 The Speedo Power Plus Swim Paddles are the best paddles for swimmers looking to get stronger in the water.
They are designed to provide extra surface area, yet in an ergonomic shape, helping swimmers improve their technique and apply force in a more natural way compared to rectangular or round swim paddles.
Speedo offers the Power Plus Paddles in four different sizes, including a small and extra-large size for bigger swimmers. The paddles have two rubber tubes that generate a custom fit—one for your middle finger and another for your wrist.
As you get stronger in the water, consider removing the wrist strap as this will encourage a cleaner hand entry with each stroke.
Made by the biggest swim brand on the pool deck, the Speedo Power Plus is my favorite and long-time training swim paddle.
| | |
| --- | --- |
| ✅ PROS | ❌ CONS |
| Best power swim paddles | Rubber straps can degrade over time |
| Made from durable materials | |
| Three sizes/colors to choose from | |
| Ergonomic shape mimics the hand for swim-specific strength | |
---
FINIS Agility Swim Paddles
⭐ Best swim paddles for stroke swimmers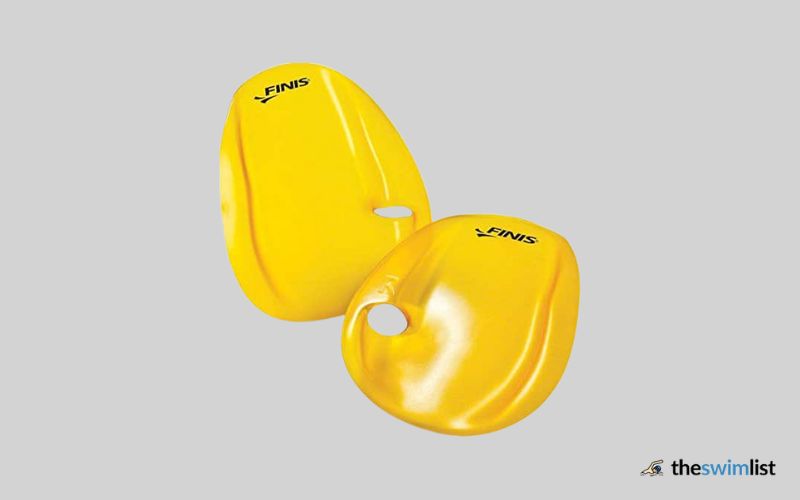 One of the most innovative swim brands around is FINIS. Founded by Olympic champions (including former 100-meter butterflier Pablo Morales), they are always at the forefront when it comes to swimming equipment.
The FINIS Agility Swim Paddles are a great example of their ingenuity, with a strap-less design that uses the pressure of the water and a thumb hole to keep the paddles in place.
The Agility Swim Paddles are perfect for stroke swimmers, particularly breaststroke and butterfly specialists. The constant pressure on the paddle makes you less likely to "catch an edge" when swimming.
The ergonomic design fits your hand's natural shape, which helps reduce some of the shoulder strain that happens with paddle use. Additionally, the strapless design allows for a greater range of motion and encourages proper technique, making them a great option for swimmers of all levels.
All in all, the FINIS Agility Hand Paddles are an excellent paddle, and because there are no rubber straps that will degrade, they will last you a lifetime.
| | |
| --- | --- |
| ✅ PROS | ❌ CONS |
| Comfortable and ergonomic design | May be too small for swimmers with larger hands |
| Strapless design encourages proper technique | Unique design may take some getting used to |
| Fits the natural shape of the hand | |
| Suitable for all strokes | |
---
Arena Finger Tip Paddles
⭐ Best swim paddles for improving feel for the water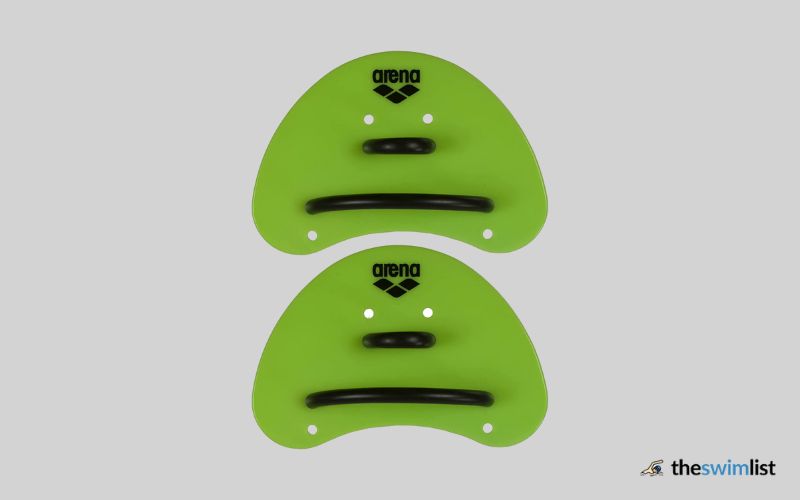 Swimmers have a love-hate relationship with the water. When we feel sluggish and slow in the water, it feels like we are going backwards.
But when we have that mythical "feel for the water" working for us, well, it seems like we are gliding above the surface of the water.
The type of swim paddles for improving your feel for the water is the Arena Finger Tip Paddle. They are awesome for sharpening your ability to "catch" and feel the water. Use them while doing sculling in the water to help teach your fingers to catch more water.
Additionally, finger tip paddles are an excellent corrective tool for pointing your fingers down when swimming in the water. After all, the sooner your fingers are pointing down at the top of the stroke, the more water you are going to pull with each stroke.
The Arena Finger Tip Swim Paddles are the perfect tool for helping you accomplish this.
| | |
| --- | --- |
| ✅ PROS | ❌ CONS |
| Best finger tip paddles | Limited use; only suitable for slow, technical swimming |
| Improve feel for the water | |
| Teach the hand to point down faster at the beginning of the stroke | |
| Available in three different colors | |
---
Sporti Power Swim Paddles
⭐ Best ergonomic power swim paddle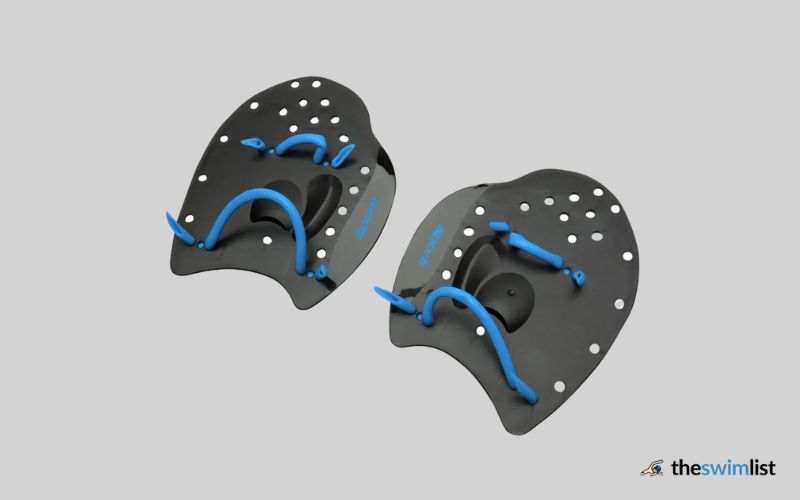 Swim paddles, by and large, have a limited amount of functionality. There are only so many things you can do with a piece of plastic strapped to your hands, after all!
But one thing that can be done is making the paddles more comfortable to use. And that is where the Sporti Power Swim Paddle steps in.
Unlike traditional swim paddles that are totally flat, the Sport paddles have a raised contour in the middle of the paddle that sinks into your palm for a more natural feeling fit. I can vouch for this, having used these exact paddles for weeks on end doing long pulling sets.
The paddle simply "sits" better in the hand, not moving around at all even when swimming at top speed.
Other features of the Sporti paddles include wrist and finger straps that can be quickly adjusted and vents to mimic how water moves through the hand.
And perhaps best of all, they are very inexpensive, costing about half as much as other power swim paddles on the market.
| | |
| --- | --- |
| ✅ PROS | ❌ CONS |
| Raised palm contour for increased ergonomics | Straps can start to slide a little bit over time |
| Twin straps that can be adjusted | |
| Vents for mimicking water flow through the fingers | |
| Budget-friendly | |
---
TYR Catalyst Stroke Swim Paddle
⭐ Best lightweight swim paddles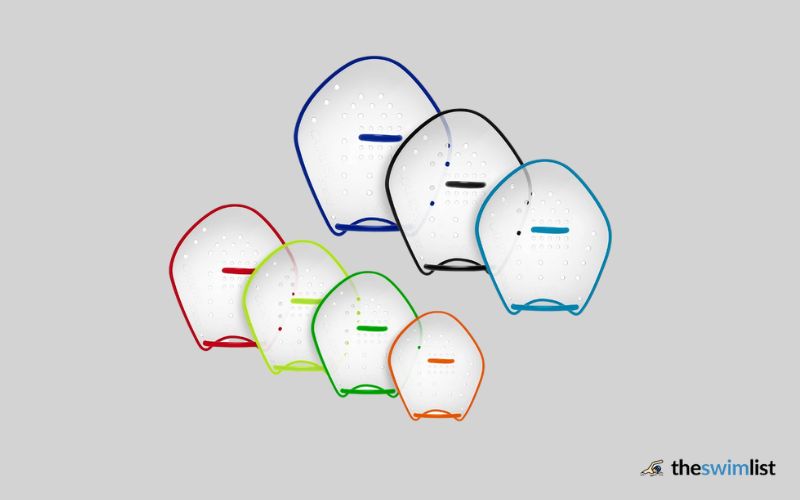 The TYR Catalyst Swim Paddles look a little bit different, and that is because they absolutely are!
Instead of your traditional plastic, the paddles are made with K-Resin, a type of plastic that is generally stiff and provides clarity.
Yes, you can actually see through the swim paddles while swimming, perfect for being able to watch the path of your fingers and hand at the top of your swim strokes.
The paddles are extremely lightweight, so they feel at home on my hands when swimming.
As someone who has long E.T. fingers, finding a properly fitting paddle can often be a challenge. Fortunately for me and my long-fingered ilk, the TYR Catalyst's come in a huge variety of sizes, from XXS all the way up to XXL.
The only downside to these swim paddles is that they are somewhat expensive compared to other paddles on the market at around $35 per pair.
| | |
| --- | --- |
| ✅ PROS | ❌ CONS |
| Tons of size options | A bit pricey |
| Lightweight | |
| See-through paddles | |
| Dual straps for a custom fit | |
---
Swim Paddles – FAQs
What are the benefits of swim paddles?
There are lots of reasons to use swim paddles the next time you hit the water, including:
Stronger Pulling Motion – Swim paddles increase the resistance in the water, which helps to build strength and tone your upper body.
Improved Technique – Swim paddles help you feel the water better, allowing you to focus on your technique and refine your stroke.
Increased Endurance – Using swim paddles challenges your muscles, helping to build endurance and stamina.
Learning Optimal Body Position – Swim paddles help you to move through the water more efficiently, teaching your body efficient body positioning.
Versatility – Swim paddles are a great way to break up the mundane in your swim training by changing things up.
Do I need to be a competitive swimmer to use swim paddles?
No, swim paddles can be used by swimmers of all levels, from beginners to professionals.
What size swim paddles should I get?
The size of swim paddles you should get depends on your level of experience and your personal preference.
To properly size swim paddles, look for a paddle that is slightly larger than your hand. Too large, and your stroke rate slows down too much to make it an effective strength and power development aid.
Can swim paddles be used for all swim strokes?
While swim paddles are versatile and can be used for a variety of swim strokes, some strokes may be more challenging than others.
For example, breaststroke and butterfly may require a smaller paddle size to ensure proper technique.
Are swim paddles safe to use? Will they hurt my shoulders?
Yes, swim paddles are safe to use when used correctly. Be sure to start with a smaller size and gradually work your way up to larger paddles to avoid injury.
Additionally, if you are currently experiencing shoulder pain, you should avoid using swim paddles until they heal. One study with competitive swimmers showed that paddles can exacerbate shoulder pain.
Didn't find the right swim paddle for you?
Swim paddles are a personal choice—we all need different sizes, colors, features, and materials with our hand paddles.
SwimOutlet, the world's leading swim retailer, has the most swim paddles online for swimmers.
Browse SwimOutlet's full line of swim paddles by clicking here.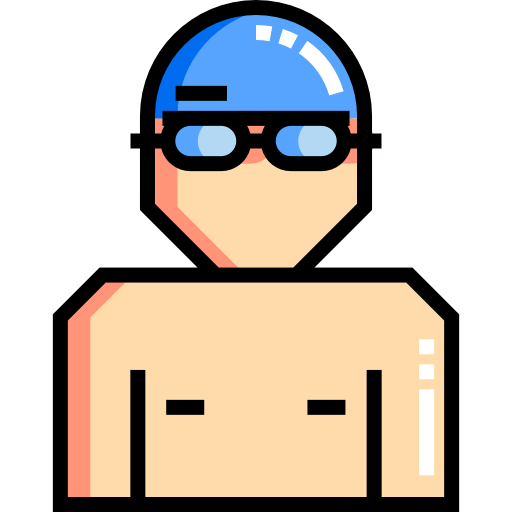 Beau Cormier is a former NCAA I swimmer, US Open National finalist, and swim nerd. When not swimming or working for a data company, you can find him running the trails of the Pacific Northwest with his wife and dogs.