Looking to up your training in the pool? Dive into this expert-recommended guide for the best swim snorkels for lap swimming.
The swimmer's snorkel is an essential tool for swimmers.
It's a tool that you can use to balance out your stroke, improve body position, and help you sharpen your technique. It's also a tool for kicking without a board, sculling, and much more.
While there are a lot of benefits to using a swim snorkel, choosing the best swim snorkel isn't always so obvious.

Snorkels come in a variety of shapes, colors, and prices. They also differ in function, with the slight differences making a surprising difference.
I've been swimming with snorkels since the mid-2000s and have tried every one of them on the pool deck.
Here is a detailed look at the top swim snorkels on the market.
Let's jump right in.
The Best Swim Snorkels in the Pool
FINIS Stability Snorkel
FINIS is the Big Kahuna when it comes to front-mounted swim snorkels. They built and released the first Swimmer's Snorkel Original back in the day (which makes this list as well), but one of its offspring, the FINIS Stability Snorkel, is the best all-around swim snorkel for its superior fit, comfort, and hydrodynamic shape.
One of the main issues of snorkels is that they can wobble a little bit when swimming at high speeds. The FINIS Stability Snorkel greatly reduces this issue with a double head strap that more evenly distributes pressure, keeping the tube, which is bent over the top of the head for maximum drag reduction, securely in place.
Another headache–literally!–of snorkels is that some brands have a head bracket that is straight-up plastic that digs into the forehead like a jackhammer. The Stability Snorkel has a curved and soft pad on the bracket that lessens the ouchie factor of wearing a snorkel over the course of a long session in the pool.
And finally, the mouthpiece can be twisted to the side so that you can take a sip from your water bottle or simply take a break from having it in your mouth between sets and reps.
The mouthpiece is also adjustable to five different heights so that you can lock the snorkel in and get to work in the pool in comfort.
All combined, the FINIS Stability Snorkel is far and away the best swim snorkel on the market right now. You get the stability, adjustability and awesomability.
🔑 Key features:
#1 pick for best overall snorkel for swimming
A mouthpiece that can be pivoted away from mouth
Double silicone head strap for max stability
Available in four colors
Pad on the head bracket
Adjustable height on the mouthpiece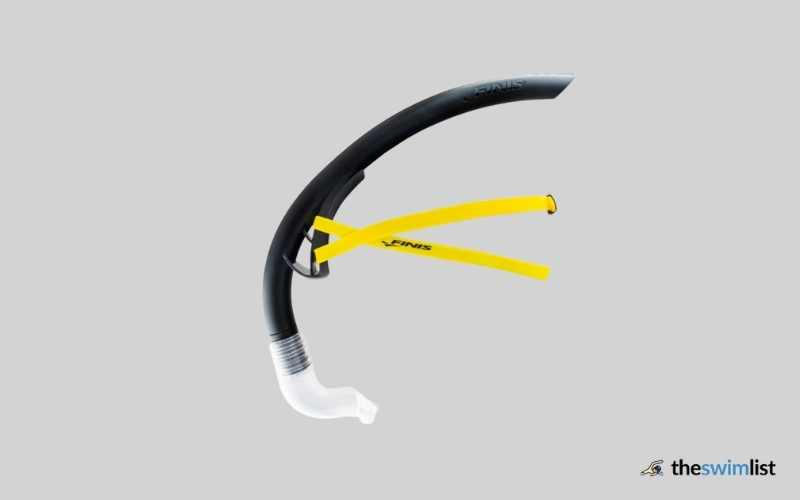 ---
Speedo Bullethead Swim Snorkel
If you've ever been around the lap pool, you know the name Speedo. While best known for their line of training suits (the ubiquitous "Speedo" is colloquial for a swim brief), they make a full line of swim gear for competitive and recreational swimmers.
The Speed Bullet Head Snorkel is a hydrodynamic snorkel that is built with a slim tube for improved pulmonary work while swimming. The heads strap is adjustable at the sides of the head mount and splits in two at the back of the head for a secure and comfortable fit.
Available in "shocking" lime–their description, not mine–white, and pink, the Bullet Head is an excellent swim snorkel that stays in place when swimming fast, doing flip-turns, and breathing like Darth Vader through the tube ;).
🔑 Key features:
Removable mouthpiece for easy cleaning
Hydrodynamic tube shape
Available in lime, white and pink
Adjustable head strap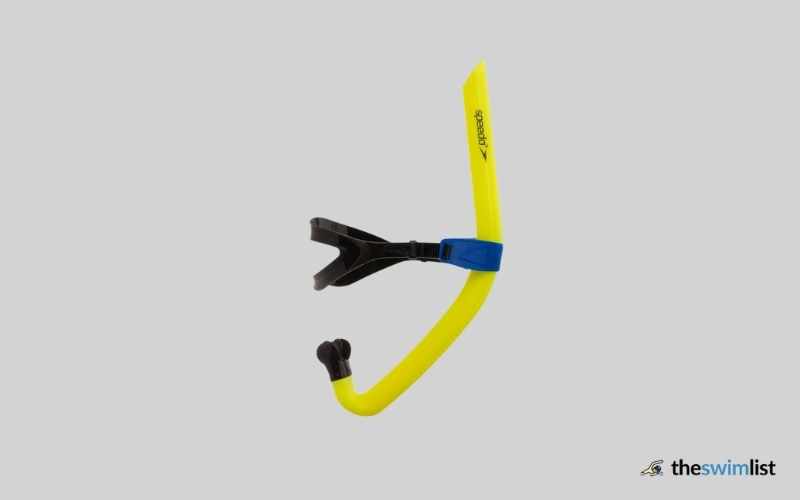 ---
TYR Ultralite Swimming Snorkel 2.0
The TYR Ultralite Swim Snorkel, as you can guess from the name, is one of the lightest snorkels on the pool deck. The head bracket can be adjusted vertically for a proper fit and the padding where the snorkel meets your forehead is padded with silicone. The mouthpiece is also made with silicone, which is hypoallergenic and highly durable compared to latex and rubber.
One of the main differences with this snorkel is that the adjustment buckle is located on the back of the head strap. To be honest, I'm not sure how I feel about this as it basically requires the snorkel to be removed in order to be adjusted.
The Ultralite has a purge valve that makes it easy to breathe properly through the tube, which makes it better suited for beginner swimmers looking to get used to the whole concept of being face down in the water while breathing.
At the end of the day, this is a relatively inexpensive (retails for around $30 over at Swim Outlet) snorkel that is light, features double-head straps for excellent stability, and a simple and clean look.
🔑 Key features:
Silicone mouthpiece and head bracket
Available in black
Double head strap
Comes with purge valve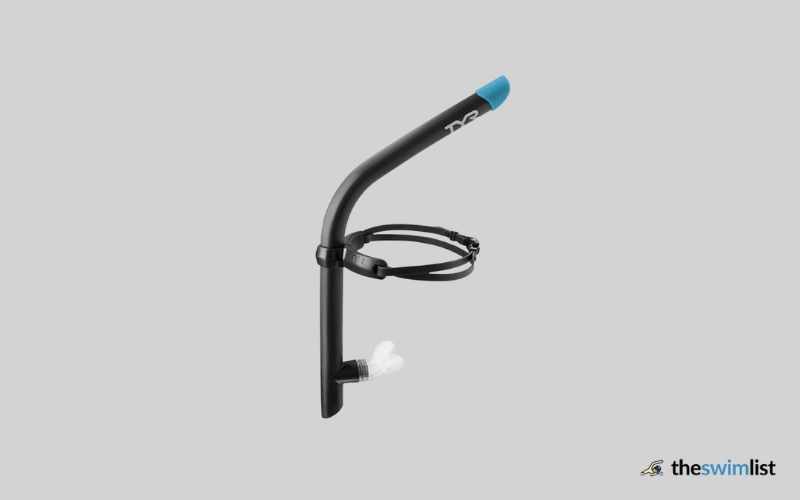 ---
MP Michael Phelps Focus Swim Snorkel
If you want the best snorkel out there, it stands to reason that you might want to check out the best swimmer on the planet's preferred snorkel.
Developed with his longtime coach Bob Bowman, the MP Michael Phelps Focus Swim Snorkel is a lightweight snorkel with minimal drag and a killer design.
There are a lot of things that I really liked about the snorkel.
Instead of a round or oval tube, the front is shaped triangularly for maximum drag reduction. The head strap is a breeze to adjust, with two buckles on the sides of the mount. The mount, where your forehead goes, is padded for comfort during those long swim practices.
Like some of the other snorkels on this list, the head strap breaks off into two at the back of the head, which helps the snorkel stay in place when you are ripping up and down the pool.
The Focus Swim Snorkel is available in a regular (adult) and small (youth) and comes in a wide range of colors, from your basic black with a lime green head strap to a really clean-looking blue on white.
🔑 Key features:
One-way purge valve
Silicone mouthpiece
Available in adult and youth sizes
Triangular hydrodynamic tube design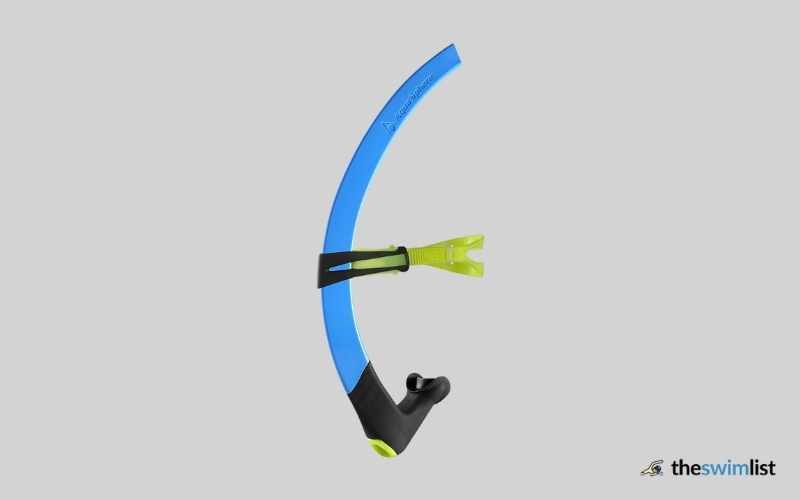 ---
FINIS Swimmer's Snorkel
The original, the one that started it all, the FINIS Swimmer's Snorkel. It was the first snorkel I ever used, and it's still kicking.
Built with a one-way purge valve at the top to quickly clear water, the Swimmer's Swim Snorkel has an elliptical shape that cuts down on drag. The head straps are easy to adjust without taking the snorkel off, but I've found that the bracket can be a little fragile when yanking on it, so adjust with care. The mouthpiece is made of silicone and the center-mount design means you can spend more time focusing on your technique and reducing strain on your neck at the pool.
Simply, the FINIS Swimmer's Swim Snorkel is awesome. Even though other snorkels on the market have jumped ahead in terms of bells and whistles (especially the FINIS Stability Snorkel), the original is still an excellent snorkel that will stick with you during those cold early mornings at practice.
🔑 Key features:
The original swimmer's snorkel
Available in two colors (pink and FINIS yellow)
Adjustable head bracket for custom fit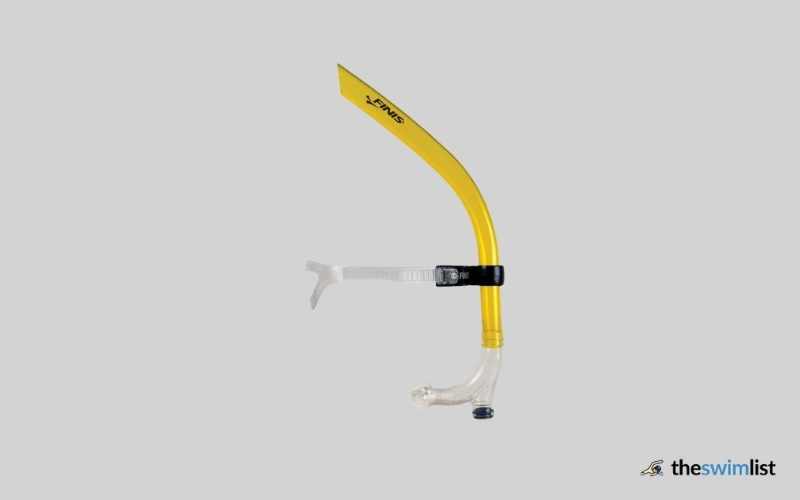 ---
Arena Pro III Swim Snorkel
Arena is another big name in the swim apparel and gear industry. They make excellent tech suits and some of the best swim goggles on the market.
The Arena Pro III Snorkel is a clean-looking snorkel that has the distinct advantage of being packaged with two different mouthpieces.
Each Pro III also comes with two caps that can be placed at the top of the tube for added pulmonary resistance (the caps can block 50 or 60% air flow, encouraging you to breathe "harder" much like a breath training device).
While I'm not entirely sold on the benefit of restricting air flow this way, especially while your lungs are already working overtime, some swimmers like having the option.
This most recent update on the Pro Swim Snorkel includes a liquid silicone headband that is comfortable on the head and won't slide around when swimming, whether or not you are wearing a swim cap.
The Arena Pro III has the major features every swimmer wants from a swimming snorkel, including an adjustable head strap, a fixed headband mount that doesn't slide around, and it's available in a range of color combinations.
All in all, this is a solid swim snorkel that gives you a lot of versatility in training options and fit.
🔑 Key features:
Available in three different colors
Comes with two mouthpieces (small and large)
Caps to increase pulmonary power
Silicone headband strap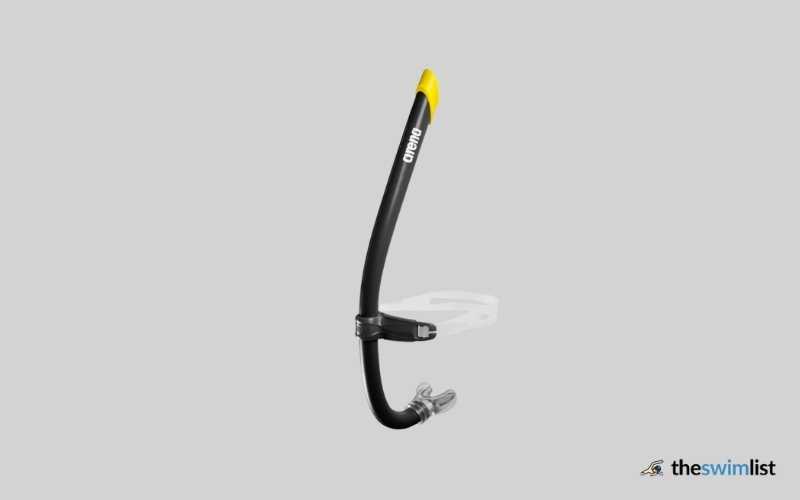 ---
Swim Snorkel – FAQs
Why swim with a snorkel?
Snorkels remove one of the big obstacles to swimming with proper technique–that whole breathing thing!
When swimmers turn their head to breathe, and they do it in a manner that breaks efficient body position, it creates a chain reaction that causes a whole bunch of problems in a swimmer's stroke.
Things like over-rotating, ankle crisscrossing, and the pulling arm crossing the midline of the body. Essentially, bad breathing can leave us swimming like an eel, except not, like, fast.
Swim snorkels allow you to focus exclusively on your technique, building correct and efficient motor patterns to carry over to swimming without a snorkel.
Other benefits of swim snorkels includes kicking without a board, reducing strain on your neck and shoulders, addressing muscle imbalances, generating better rhythm in your stroke, and so on.
How do I choose the right swim snorkel for me?
There are some key things to look for when figuring out which swimming snorkel lines up with your goals in the water:
🏊 Mouthpiece.
Swim snorkels have a silicone or rubber mouthpiece that you gently bite into to create suction to keep water out.
The FINIS Stability Snorkel has a twistable mouthpiece that can be rotated away from the mouth between reps so that you can take a sip from your water bottle or crack that joke to your teammate that's been in your head for the last 300m.
🏊 Adjustable.
Each swimmer's head is a little different in terms of shape and size. Your snorkel of choice must be adjustable—at the very least on the head straps—to ensure a secure fit.
Some swim snorkels allow you to adjust the vertical height on the mouthpiece and tube to get an even more custom fit.
🏊 Tube shape.
The tubes on swim snorkels vary widely in shape and the way it's bent. Snorkel tubes are either elliptical or triangular shape. I'm not sure either is better or worse in terms of reducing drag.
And for the bend of the tube, there are a lot of options, with the FINIS Freestyler Snorkel providing the most "over the head" shape, while the Focus, Pro III and the Bullet Head have more traditional "straight up" tube designs.
🏊 Purge valve.
One of the big concerns swimmers have when starting out with a snorkel is that whole "I don't want to choke on water that gets down the tube" thing.
Understandable!
Fortunately, most swim snorkels have a purge valve that makes it easier to clear water that gets in the tube (from when you do a flip turn, for example).
A light exhale pushes collected water down through the valve at the bottom of the tube instead of having to blast the water out like a whale expelling a breath at the surface.
🏊 Head straps.
A snorkel that wobbles a lot when swimming is not fun. If you are pushing off, or sprinting, or swimming with fins, a snorkel can start to shake and wobble.
When this happens, they are more likely to twist sideways on you mid-lap. I've had snorkels nearly get ripped out of my mouth from not having it properly secured when sprinting with fins on.
The head straps help keep the bracket and tube straight and relatively still. Double straps are a good option for swimmers who want to speed-proof their snorkel.
🏊 Padded head bracket.
One of the few complaints I had about the old-school snorkels was that the pad on the bracket that connected the snorkel to the forehead was hard plastic.
This left my forehead feeling sore after long sets with the snorkel.
Fortunately, most swim snorkels now have pads, either high-density foam or silicone to soften the pressure of the bracket on the forehead.
Should I swim laps with a diving snorkel?
Well, you could, but it would usually mean that you have to strap a snorkeling mask to your face as well.
Dive snorkels wrap around in front of your face and expel air out the tube off the side of your head. Swim snorkels are center-mounted, which means it won't wobble around like crazy when you are swimming at a good pace.
Conventional snorkels interfere with a swimmer's stroke and technique and can generate a lot of unnecessary drag in the water.
Swim snorkels have hydrodynamic tubes to reduce excess drag and allow swimmers to enter the water at the front of the stroke without their arms bumping into the snorkel.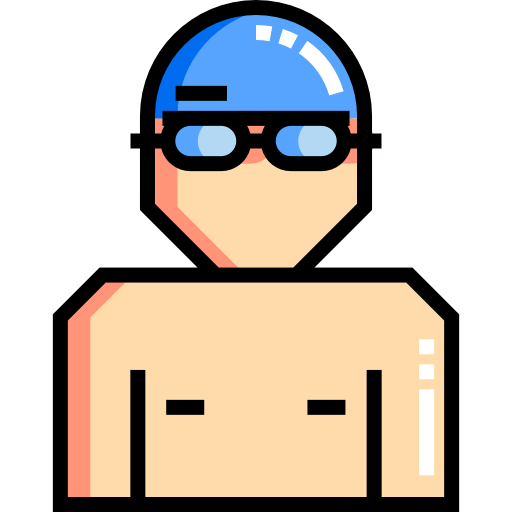 Beau Cormier is a former NCAA I swimmer, US Open National finalist, and swim nerd. When not swimming or working for a data company, you can find him running the trails of the Pacific Northwest with his wife and dogs.