Swimming goggles are an essential accessory for both professional athletes and recreational swimmers.
When it comes to quality and performance, Speedo is a trusted brand that has been leading the swimwear industry for decades.
In this article, we will explore the top five most popular Speedo swim goggles available on the market today.
We will delve into their features, pros, and cons, helping you make an informed decision when choosing your next pair of swim goggles.

Let's dive in!
Speedo Vanquisher 2.0 Swim Goggles
The Speedo Vanquisher 2.0 Swim Goggles are a highly regarded choice among competitive swimmers. They feature a low-profile design, offering a sleek and hydrodynamic fit. The Speedo Vanquisher is also one of the preferred swim goggles of Olympic swimmers.
The goggles come with a double silicone head strap, ensuring a secure and comfortable fit during intense swim sessions. The Vanquisher 2.0 goggles provide excellent UV protection, anti-fog coating, and wide peripheral vision, making them suitable for both indoor and outdoor use.
Pros:
Hydrodynamic design reduces drag for enhanced performance.
Double silicone head strap provides a secure and comfortable fit.
UV protection and anti-fog coating ensure clear vision.
Wide peripheral vision for increased awareness in the water.
Suitable for both indoor and outdoor swimming.
Cons:
Some users with smaller face shapes might find them slightly bulky.
The strap might require frequent adjustments during prolonged use.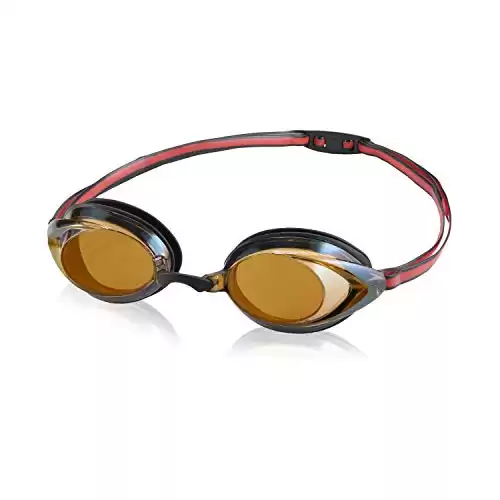 ---
Speedo Speed Socket 2.0 Swim Goggles
The Speedo Speed Socket 2.0 Swim Goggles are designed specifically for competitive swimmers who prioritize speed and precision.
With a low-profile inner eye fit, these goggles offer minimal drag, allowing swimmers to maintain their speed effortlessly. The mirrored lenses provide maximum visibility in bright conditions while minimizing glare.
Pros:
Low-profile design reduces drag and enhances speed.
Mirrored lenses offer excellent visibility in bright conditions.
Hypoallergenic silicone seals provide a comfortable and watertight fit.
Quick-adjust strap system allows for easy customization.
Suitable for competitive swimming and triathlons.
Cons:
Some users find the mirrored lenses too dark for indoor swimming.
The nose bridge might feel tight or uncomfortable for certain face shapes.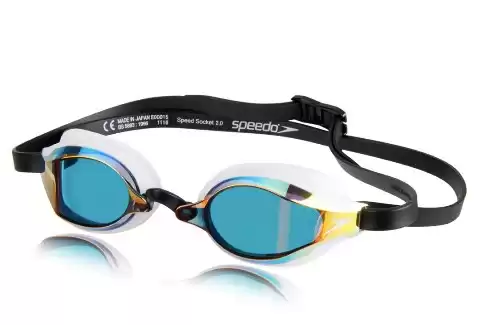 ---
Speedo Hydrospex Swim Goggles
The Speedo Hydrospex Swim Goggles are a popular choice among recreational swimmers and fitness enthusiasts. These goggles offer a comfortable fit with a one-piece frame and flexible silicone gasket. The lenses provide excellent visibility, while the split silicone head strap ensures a secure fit without tangling hair.
Pros:
Comfortable one-piece frame with a flexible silicone gasket.
Lenses provide clear visibility and UV protection.
Easy-adjust buckle system for quick and hassle-free strap adjustments.
Anti-fog coating for extended swim sessions.
Suitable for recreational swimming and fitness training.
Cons:
The one-piece frame might not accommodate all face shapes perfectly.
The strap can loosen up during vigorous swimming, requiring occasional readjustment.
---
Speedo Fastskin3 Elite Swim Goggles
The Speedo Fastskin3 Elite Swim Goggles are designed for elite swimmers and professional athletes aiming to maximize their performance in the water.
These goggles feature IQfit technology, offering a leak-proof seal and a customized fit for optimal comfort and hydrodynamics. The lenses provide exceptional clarity and peripheral vision.
Pros:
IQfit technology ensures a leak-proof seal and customized fit.
Hydroscopic lenses provide clear vision and wide peripheral view.
Interchangeable nose bridges for personalized fit.
Anti-fog coating and UV protection.
Suitable for competitive swimming and triathlons.
Cons:
Higher price point compared to other models.
The advanced design might take some time to adjust for new users.
---
Speedo Vanquisher Optical Swim Goggles
The Speedo Vanquisher Optical Swim Goggles cater to swimmers who require corrective lenses. These goggles are available in a range of diopters, allowing individuals with nearsightedness or farsightedness to enjoy clear vision in the water.
The Vanquisher Optical Goggles offer all the features of the popular Vanquisher 2.0, with the added benefit of prescription lenses.
Pros:
Available in various diopters to cater to individual prescriptions.
Same features as the Vanquisher 2.0 goggles.
Low-profile design reduces drag and enhances performance.
Excellent peripheral vision and UV protection.
Suitable for swimmers with visual impairments.
Cons:
The prescription lenses might not perfectly match the user's eyeglass prescription.
Some users may find it challenging to select the correct diopter strength without professional guidance.
---
Speedo Swim Goggles — FAQs
Here are some of the most commonly asked questions swimmers, from beginners to open water swimmers to experienced athletes have about Speedo swim goggles:
How do I choose the right size of Speedo swim goggles?
Speedo goggles typically come in one-size-fits-all designs, with adjustable straps for a customized fit. However, it is essential to consider the shape of your face and head circumference to ensure a proper seal and comfortable fit.
How do I prevent fogging in my Speedo swim goggles?
Speedo goggles are equipped with an anti-fog coating to minimize fogging. To maintain the effectiveness of the anti-fog coating, avoid touching the inside of the lenses and rinse the goggles with fresh water after each use. Additionally, you can purchase anti-fog sprays or wipes for added protection.
For swimmers who want the ultimate anti-fog swim goggles, consider the Arena Cobra Ultra Tri Swim Goggles, which have a much longer-lasting anti-fog coating compared to Speed goggles.
Can I wear Speedo swim goggles with contact lenses?
Yes, Speedo swim goggles can be worn with contact lenses. However, it is important to ensure the goggles fit properly and do not put pressure on the eyes, which could dislodge the lenses.
How long do Speedo swim goggles typically last?
The lifespan of Speedo swim goggles varies depending on the frequency of use, care, and maintenance. With proper care, including rinsing after each use and avoiding exposure to direct sunlight, Speedo goggles can last for several swimming seasons.
Can I use Speedo swim goggles for diving?
Speedo swim goggles are primarily designed for swimming and may not provide adequate pressure compensation for diving. For diving purposes, it is recommended to use specialized diving masks that can handle the increased pressure at greater depths.
The Bottom Line
Choosing the right swim goggles can significantly enhance your swimming experience. Speedo offers a wide range of high-quality goggles suitable for various swimming needs.
By considering the pros and cons of each model, you can find the perfect pair that suits your requirements.
Whether you are a professional athlete or a casual swimmer, Speedo swim goggles are a reliable choice that combines comfort, performance, and durability, ensuring clear vision and an enjoyable time in the water.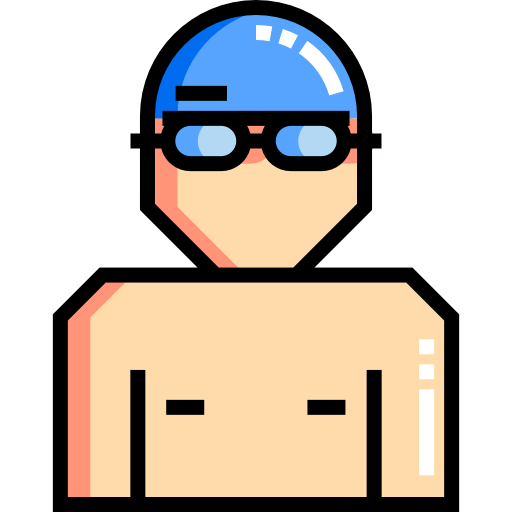 Beau Cormier is a former NCAA I swimmer, US Open National finalist, and swim nerd. When not swimming or working for a data company, you can find him running the trails of the Pacific Northwest with his wife and dogs.