Looking for some awesome swim goggles for lap swimming? Here's a detailed look at the best kind of goggles for every type of swimmer.
No matter what kind of swimming you are doing, there is a set of swim goggles out there for you.
There isn't much worse than having swim goggles that leak, leave your head feeling sore, or fog up so much that you spend half your workout hanging off the gutter, wiping the inside of the goggles' lenses.
Once you find the right swim goggles for you and your goals in the water, there will be nothing stoppin' ya. Goggle fit is personal, and having a pair of swim goggles that you know will rep as hard as you do in the water can be a real game-changer.

Read on for a detailed look at the best swim goggles on the market and on the pool deck…
Let's hop right in.
The Magic5 Swim Goggles
⭐⭐⭐ Best overall swim goggles for swimmers
We've all dreamed of the perfect-fitting swim goggle. You know, the swim goggle that doesn't leak, is comfortable, doesn't leave deep red circles on our eyes after swimming, and looks great.
Welp, those swim goggles are here.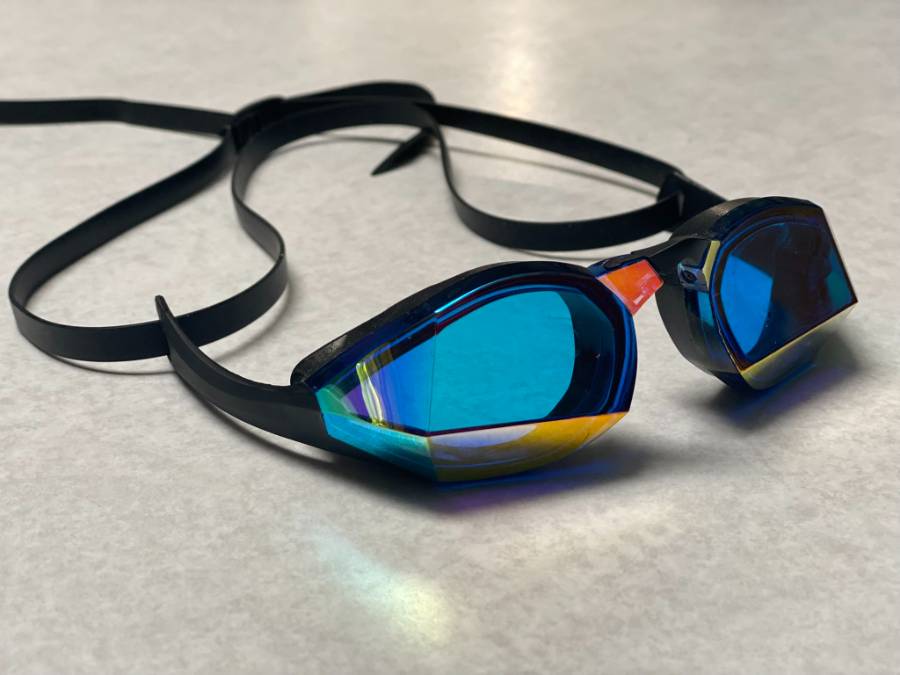 The Magic5 Swim Goggles are a big step forward in terms of swim goggle tech. The way the goggles work is like this:
You order a set of swim goggles. Download the Magic5 app to your smartphone. Use the camera on the smartphone to do a 3D scan of your face. The scan is uploaded to Magic5 HQ, where they 3D print a customized goggle gasket based on the precise specifications of your face.
A week or two later, a brand-new, one-of-one set of swim goggles shows up on your doorstep.
Because The Magic5 Swim Goggles don't need to be squished into your face to create leak-free suction, they are far more comfortable than traditional swim goggles.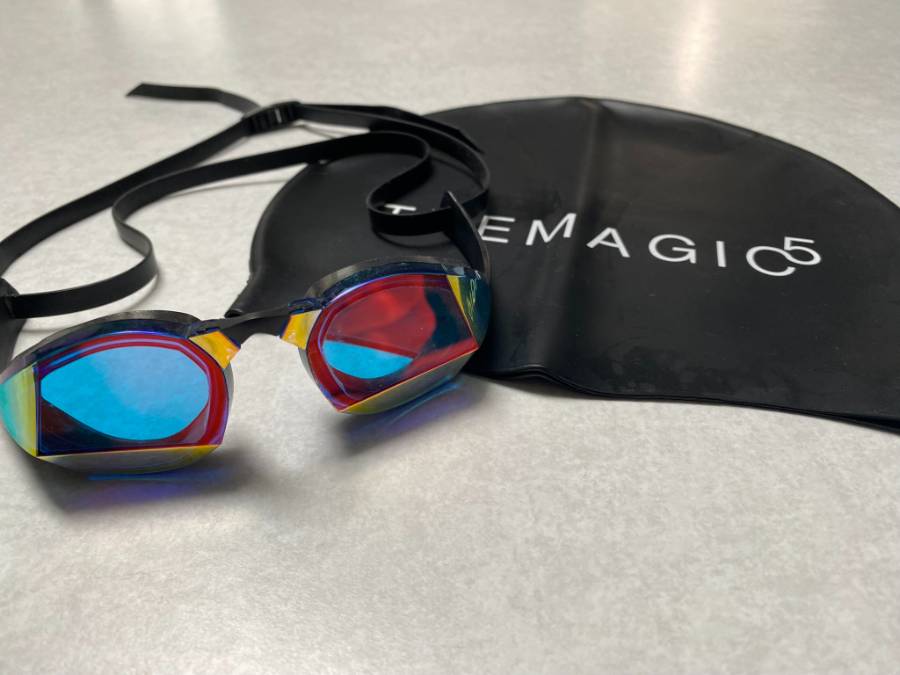 And while they fit excellent, they also look and perform fantastic. The diamond-shaped lens gives awesome peripheral vision, the mirrored lenses are extremely slim and hydrodynamic, and the silicone head straps means the goggles will last a long, long time.
One of the things that I really liked about the Magic5 Goggle is that they come with a vented goggle carry-case. The swim goggles aren't cheap compared to other options on the market, so having a carry case to protect them between swims from scratches and dirt is key.
Overall, The Magic5 Swim Goggles are the best swim goggles for swimmers who want a truly unique and customized fit, making them an ideal choice for competitive swimmers and recreational swimmers who hit the lap pool often.
🔑 Key features:
The world's first custom swim goggles
More comfortable than regular swimming goggles
Diamond-shaped lens for excellent vision
Anti-fog coating and UV protection
Available in a wide variety of colors and tints
Leak-free guarantee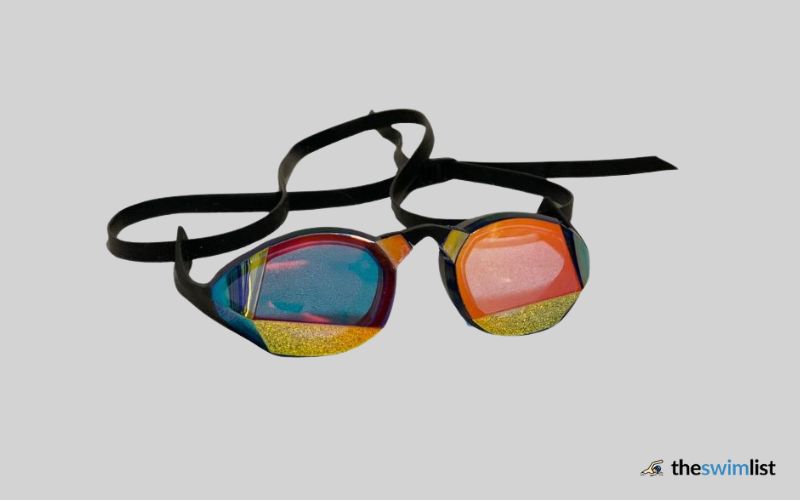 ---
Speedo Vanquishers 2.0
The best swim goggles for most people, and we are talking recreational swimmers, experienced Olympic-level swimmers, and even kids, are the Speedo Vanquishers 2.0.
They are super versatile, have a silicone skirt that eliminates leaking, and come in a huge variety of colors, lens tints, and even sizes with both adult and youth sizes. (Oh, and they are also one of the very few swim goggles that come with a prescription, as well.)
Vanquishers are basically the Swiss Army Knife of swim goggles. Because they have a mirrored lens option, you can use these outdoors to protect your eyes on sunny days.
That said, swimmers who train in pools that have darker lighting will want to avoid the darker and mirrored tints as the goggles can become difficult to see through as you build up a sweat.
Vanquishers are easy on your bank account too, making them an excellent all-around swim goggle.
🔑 Key features:
Silicone construction that is extra durable
Huge assortment of colors and lens tints
Mirrored lens option for outdoor swimming
Available in Youth and Adult sizes
Prescription option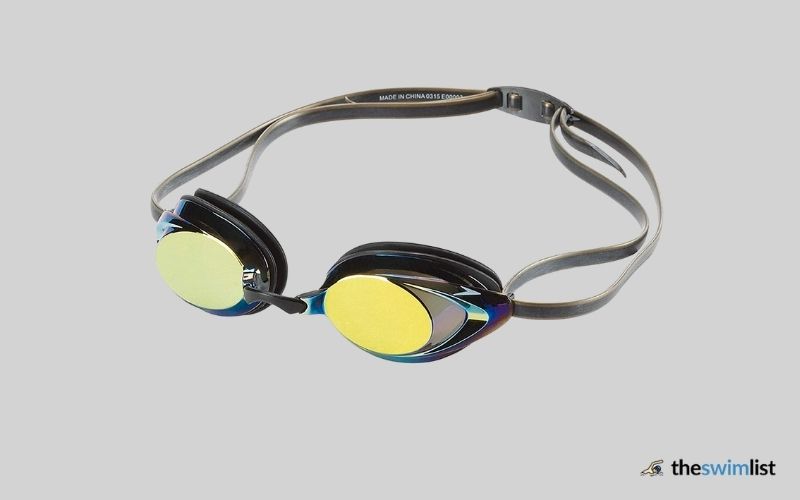 ---
Cobra Ultra Swipe Mirror Swim Goggle
One of the biggest frustrations that swimmers experience is the inevitable fogging of the goggle lens.
Arena, who makes a deep roster of excellent gear for competitive swimmers, including tech suits, swim bags, and much more, is the first to come up with a goggle that is specifically designed not to get foggy.
The lenses are made of sturdy polycarbonate and the head straps break into two straps halfway around your head. I find that this helps eliminate some of the sliding that happens with goggle straps.
But of course, the best feature of these goggles is their "anti-fog technology" which works by gently rubbing the inside of the lens five times when your goggles get foggy. This activates the anti-fog film, restoring crystal-clear vision.
🔑 Key features:
Slim profile, making it ideal for racing and training
Huge range of bright colors and tins
Silicone skirt around the lenses to eliminate leaks
Silicone head straps that don't stretch and fade from chlorine
Includes five different nose bridges for a custom fit
On the downside, these goggles with all of their tech and drag-reduction are not cheap, retailing for around $70.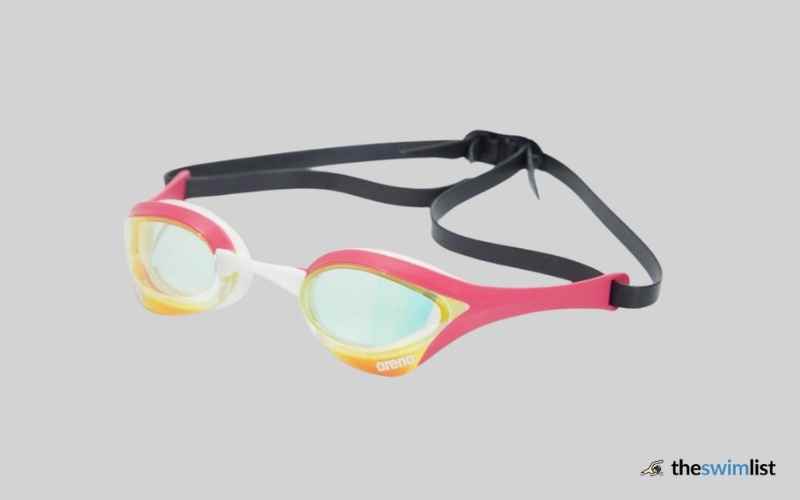 ---
TYR Socket Rocket Metallized Swim Goggles
One of my favorite goggles is the TYR Socket Rockets.
They represent an update on the old-school Swedish goggles, with dual straps, a nose piece made of a chunk of the head strap (they ship with a string and silicone tub for the nose piece, too), and of course, that sleek and thoroughly badass look.
But unlike Swedes, which have a hard plastic gasket sitting on your face (making it a little less friendly to beginners), the Socket Rockets have a thin rubber lining around the lens that compresses into the skin surrounding your eyes.
This is both more comfortable and provides a slight amount of suction that helps to prevent leaks.
My main complaint with the old-school Malsten Swedes (and even Speedo's version of Swedish goggles) has been the latex head straps, which degrade in a matter of months of consistent use.
Fortunately, the Socket Rockets, like most new goggles on the market are going all-in on silicone, which is way more durable and softer on the skin and hair.
In sum, for about $15, you get the looks and customized fit of Swedes without the headache (literally, in some cases) and the short lifespan of the latex straps.
🔑 Key features:
String nosepiece (but ships with a couple inches of headstrap through the nose piece)
Easy to adjust both the nose bridge and the head straps
Silicone construction
Thin rubber gasket for leak-free swimming
Metallic lens (also available in blue and clear lenses)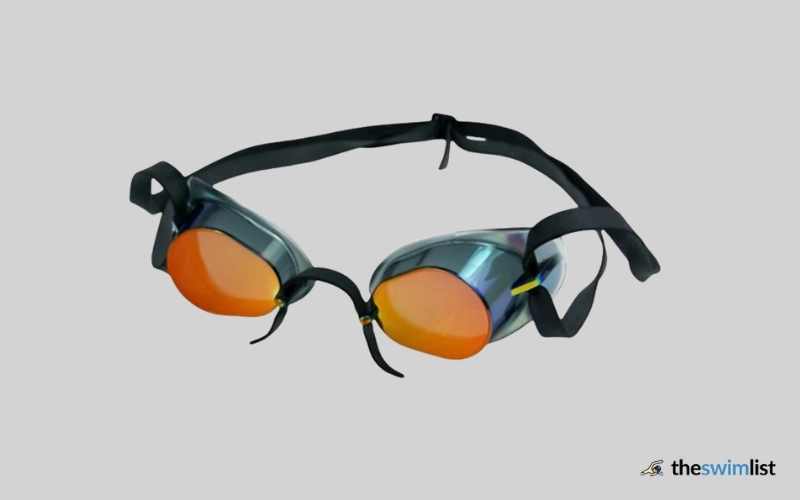 ---
Speedo Speed Socket 2.0 Mirrored Swim Goggles
Want to wear the same goggles as the fastest swimmer on the planet? Sure? Maybe? Hard yes?
Let me introduce you to Caeleb Dressel's swim goggles of choice, the Speed Socket 2.0.
The Speed Sockets are an all-purpose goggle that can work both at swim practice and the next time you are getting up on the blocks.
The lenses are nice and wide, giving you lots of peripheral vision in the water. Mirrored lens to help cut down on the brightness and glare (perfect for swimming outdoors!). And a dual-strap to lock the goggles securely into place on your head.
Price-wise, the Speed Sockets are in the middle of the pack, retailing for around $40.
I love this price point as you get the durability of training goggles with the low drag profile of racing goggles for a reasonable price.
In other words, you get it all with these swimming goggles.
🔑 Key features:
Olympic champion Caeleb Dressel's goggle of choice
Available in ten different color combos
Hybrid racing and training swim goggle
Mirrored lens to eliminate glare and reduce brightness
Five nose pieces for a custom fit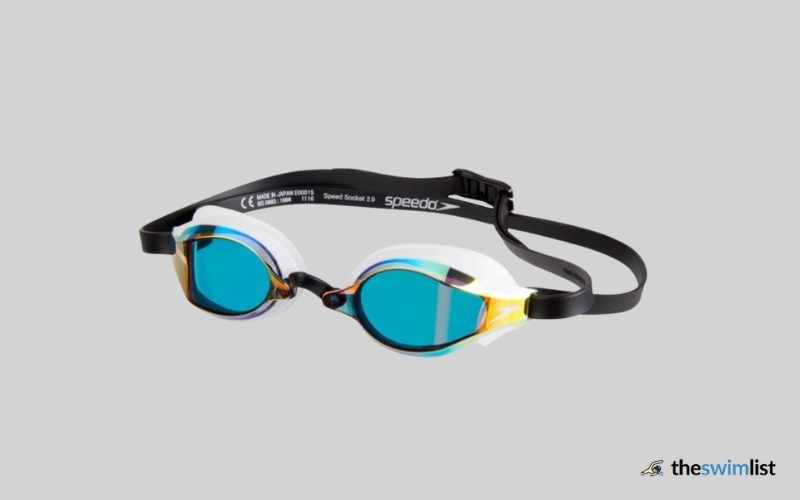 ---
FINIS Smart Swim Goggles
For a long time, swimmers had very limited options when it came to tracking their workouts with anything other than a swimming smartwatch.
Until FORM came on the scene with their industry-shaking swim goggles that featured a digital heads-up display… in the goggles.
Not much after that, the FINIS Smart Goggles appeared.
Like the FORM goggle, it has a heads-up display inside the gasket that spits out a huge range of customizable data about your swim practice.
Intervals, send-off times, stroke counts, rest time, and more. Fire it up, swim your workout, and once you get out, you have access to a ton of actionable (and surprisingly accurate–the FINIS goggle is better at detecting strokes than most swim trackers) info on the dedicated smartphone app.
There are two reasons that I prefer these goggles over the FORM goggles.
First, you can replace the goggles without having to replace the heads-up display.
The HUD unit can be removed and clipped into a new pair of FINIS goggles once the lenses have lost all anti-fog coating or gotten scratched. Replacing the goggle, and not the whole setup, costs about $30.
Secondly, the heads-up display takes up less of the forward viewing area. The display is tucked into the corner of the gasket and is not visible when looking straight ahead. But shift your eye to the left, and the data appears.
This is a personal preference; I'd much rather have more field of view available and have the option to look at the digital display when I choose.
The FINIS Smart Goggle comes with a hefty price tag, retailing for around $235.
But for the data-centric lap swimmer who trains on their own and wants to take a deep dive into the results of their training, it's an awesome investment.
🔑 Key features:
Intuitive app that is set up in the way a swimmer thinks
Available in smoke and blue lenses
Six nose bridges for a custom fit
Sturdy polycarbonate lens and silicone head straps
Heads-up-display has a six-hour battery life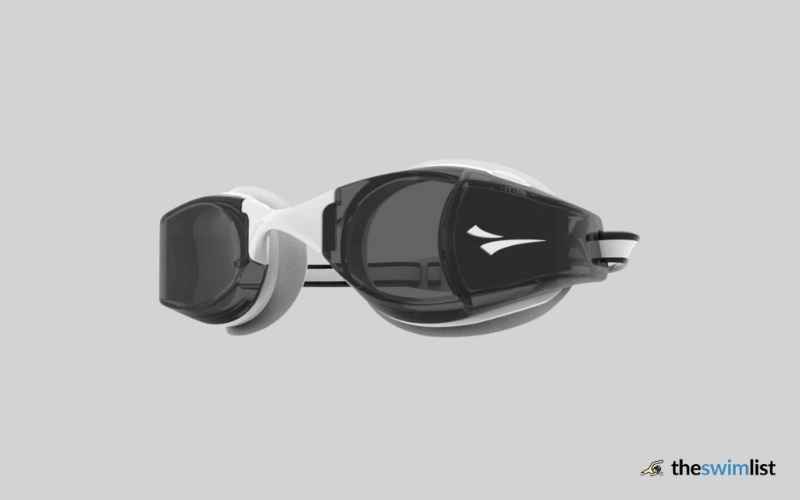 ---
TYR Special Ops 2.0
The TYR Special Ops 2.0 Swim Goggle is an excellent choice for the swimmer who likes to train indoors as well as do the occasional open water swim.
It blends comfort, a leak-free fit, and a polarized lens to help you see clearly when swimming outside.
The gasket is completely made of silicone, which gives it an added element of flex. I like this as it helps the goggles wrap comfortably around your face and also gives it a little extra peripheral view. The lenses of the swim goggles are polarized, which almost completely reduces the glare that happens from sunshine bouncing off the surface of the water.
A single strap splits in two around the back of the head for a secure fit. Adjustable on the sides. And an anti-fog coating for crystal-clear vision, whether that's to see the black line at the bottom of the pool or to sight when you are swimming in open water.
Competitive swimmers might find the goggles a little big for dedicated pool swimming, particularly youth swimmers. TYR also offers a Small version of these swim goggles that are 20mm narrower and with a shorter nose bridge.
🔑 Key features:
Polarized lenses for maximum glare reduction
Silicone gasket for a secure fit
Excellent peripheral vision
Great for open water and pool swimming
One-size-fits-all nose bridge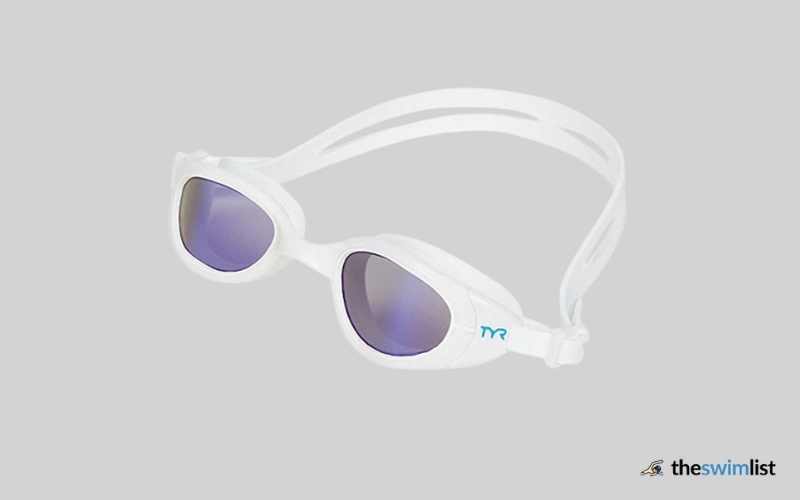 ---
Swim Goggles – FAQs
Do swim goggles help you swim faster?
Elite racing goggles reduce resistance and drag in the water, which makes you more hydrodynamic.
They have extra thin lens casings to give you a slimmer profile in the water, which ostensibly has the effect of giving you more speed.
What goggles do Olympic swimmers use?
There is no line of "Olympian" goggles on the market, but for the most part, they wear Speedo Speed Socket 2.0's, Speedo Elite FastSkins, and Arena Cobra Ultras.
They all feature excellent peripheral vision, slim drag profiles, are made of silicone, and have two head straps to keep the goggles firmly in place.
What kind of lens should I choose for my goggles?
Swim goggles come in a variety of lens tints and colors. Choosing the lens for your swim goggles generally comes down to how well-lit the pool is.
Darker tints (like smoke), mirrored and polarized lenses are ideal for brightly-lit indoor pools and outdoor swimming. Polarized and mirrored lenses, in particular, can also significantly reduce glare and squinting from the sun.
Colored lenses (blue, yellow, pink, green) and clear lenses are best suited for indoor pools that are dimly lit.
Most quality swim goggles on the market have a built-in UV coating on the goggles to protect your eyes from the sun.
What's the best way to keep swim goggles from fogging up?
Foggy swim googles are more than a simple irritant. When the inside of the lens gets fogged up it makes it hard to see other the pace clock, other swimmers in your lane, and even cause you to misjudge walls.
Try to avoid rubbing the inside of your swim goggles too much (this will chip away at the thin film of anti-fog solution), stock up on replacement anti-fog sprays, and choose swim goggles that match the lighting of your swim pool.
How do I stop my swim goggles from leaking?
Strapping on a pair of new goggles is awesome—you get that crystal-clear, HD vision that comes with fresh lenses. But what is not so awesome is when the fit is off, resulting in water leaking into your goggles while you are swimming up and down the pool.
Achieving that ideal, leak-free fit requires a little jockeying with the size of the nose piece and positioning the head straps properly.
Most swim goggles come with a handful of different nose bridges for an optimal distance between the ocular lenses. With your head straps, look for swim goggles that have adjustable straps and position them so that they aren't dropping down to the back of your head.
Finally, most of the popular swim goggles out there have silicone skirts on the lenses that gently compress into the skin of your face, creating a seal that keeps water out.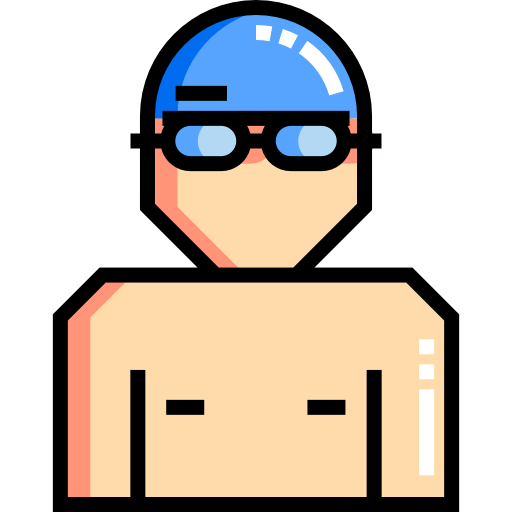 Beau Cormier is a former NCAA I swimmer, US Open National finalist, and swim nerd. When not swimming or working for a data company, you can find him running the trails of the Pacific Northwest with his wife and dogs.