Feeling overwhelmed by all the different brands and features of swim goggles? Here's your ultimate guide to choosing an awesome set of swim goggles.
Looking for a set of awesome swim goggles but aren't sure what you need to know before punching the "add to cart" button?
With so many different options, brands, and features, it can be surprisingly difficult to find the right goggles for your next swim.
And every swimmer knows the frustration of a pair of swim goggles that don't work as they should.

Whether that's springing a leak when you push off, the anti-fog disappearing after a swim, or head straps that need to be constantly adjusted.
Here's a complete guide to choosing the best swim goggles so that you can spend more time crushing personal bests in the water and less time trying to get the goggles to fit right.
Let's jump right in.
What kind of swimming are you going to be doing?
First off, let's start with what you are going to be using your goggles for.
Swimming, obviously.
But what kind of swimming?
Swim goggles are primarily built to protect your eyes and help you see, but it's the other features of the goggles that make them ideally suited for a specific type of swimming.
Racing goggles.
Competition swim goggles are designed to help you make the most of your hard work at practice when you step up on the block on race day.
They have a very low profile fit that helps to reduce resistance and drag in the water.
Premium racing goggles include the Arena Cobra Ultras and the Speedo Hyper Elite FastSkin. These are "technical" goggles which can get quite pricey, with the Elite FastSkin retailing for around $70-80, making them less than ideal for daily training.
Some goggles combine the best parts of premium goggles and combine them with a reasonable price tag.
An example of this kind of goggle is the Speed Socket, which is an excellent hybrid goggle that can be used for both training and competition and won't break the bank.
Training goggles.
This is the broadest category of swim goggles and cover a huge range of shapes and forms.
The main considerations are comfort and durability. You want a goggle that can be worn for extended periods of use and won't fall apart after a couple of weeks of swimming.
See also: The Best Antifog Swim Goggles for Lap Swimming
Look for a rubber gasket on the lens that makes them more comfortable on the skin and a silicone construction. Silicone is an excellent material that takes forever to fade, which means they will keep rockin' with you over the course of the season.
Lastly, there is also a batch of "smart" swim goggles like the FORM and FINIS Smart goggles that include a heads-up-display, giving you heaps of data and results as you train in the pool.
Open water swim goggles.
Open water swimming is a great way to get your strokes in while also getting fresh air and sunshine. There are some excellent goggles that are uniquely designed for this purpose.
The things setting them apart from pool goggles include a wider, curved lens that increases peripheral vision, helping swimmers sight their location.
Open water goggles tend to be a little bulkier and they almost have mirrored or polarized lenses to protect the eyes from UV rays.
Recreational goggles.
Finally, we have goggles that are primarily designed to protect the eyes while splashing around in the pool.
While they aren't ideally suited for extended swimming, they are inexpensive and check the boxes when it comes to protecting the eyes from both pool water and UV rays.
How adjustable are the goggles?
Every swimmer's head is a little different. Fortunately, swim goggles are generally very adjustable.
The two key things you want to be able to change out include:
1. Nose bridge.
Troubleshooting leaky swim goggles should always start with adjusting the width of the nose bridge.
When the string, strap or nose piece that connects the two goggles lenses is too narrow (digging into your nose, too) or too wide, the goggles are inevitably going to leak.
Swim goggles should be fully adjustable between the eyes.
Most popular goggles, like the Vanquisher and Speed Socket come with a variety of differently sized nose bridges (usually each set of goggles come with 4-6 bridges).
Swedish-inspired goggles like the Rocket Socket and the old-school Malmsten or Speedo Swede goggles have holes in the lens where you can insert either string or a section of goggle strap to create a custom fit.
2. Head straps.
The lenses of the goggles need to stay in place while you are swimming around, doing flip turns, diving into the water, and so on. This is achieved in part thanks to the head straps. They come in single and double strap options, and they usually include either a buckle at the back to adjust length or buckles on the side of the goggle frame.
What kind of gasket do the goggles have?
The shape of the gasket and lens and how it fits on your face is up next.
Goggles are available with either a rubber gasket or rely on the actual goggle lens to create a seal around your eyes.
The old school Speedo goggles from my earliest days in the pool (back in the late 80s') had a foam gasket that made goggles comfortable and helped create a seal to keep water out of the goggles.
Nowadays, most swim goggles have a rubberized gasket around the lens (see: Vanquisher, Cobra Ultras, etc) that creates a gentle suction on your face. This gasket eliminates any gaps that would allow water to pass into the goggles, creating a custom fit.
Some goggles, and there aren't many, don't have a rubber gasket at all. An example is Swedes, which rely on the plastic lens sticking to the skin to create a watertight seal. For newer swimmers, this kind of goggle can leave the face feeling a little sore.
What type of lens matches the kind of swimming you are doing?
The right lenses for your swim goggles can really make a difference when it comes to your swim workouts.
The lenses should have features that line up with the kind of swimming you are doing and the environment you are doing it in.
For example, a clear lens goggle will result in you in squinting like crazy from the glare and UV rays at an outdoor pool.
I've written a more detailed guide on the different kinds of swim goggle lenses in this post, but here are the basics:
Clear or colored lenses. These work best for indoor pools. They increase contrast, making them ideal for dimly-lit pools.
Metallic or polarized lenses. Metallic, mirrored and polarized lenses are awesome for outdoor pools and brightly lit swim pools. Polarized lenses in particular almost completely eliminate glare off the surface of the water.
Smoke lenses. This tint of goggles provides a balance between colored and metallic lenses. While a darker smoke lens isn't ideal for a swim pool that is poorly lit, a smoke-lensed goggle can usually work well with both indoor and outdoor pools.
The Bottom Line
Swimming is one of the most rewarding activities you can learn.
Beyond the fact that it's an essential life-saving skill, it's a great way to burn calories, build muscle and even improve mental health.
Now that you're certified as a swim goggle expert, it's time to plunk down on a set of swim goggles and take it to the pool!
More Swim Goggle Guides
Looking for more information on swimming goggles?
I've got ya covered:
🏊 Why You Should Wear Swim Goggles. Thinking about swimming without goggles? Here's a basket full of reasons that you absolutely should.
🏊 7 Best Swimming Goggles for Lap Swimming. Here is a detailed look at the best goggles on the market for every kind of swimmer.
🏊 Should You Wear Swim Goggles Over or Under a Cap? Swim caps are another essential piece of your swimming tool kit. Here's a look at the benefits of wearing goggles under and over a swim cap.
🏊 What Swim Goggles to Olympic Swimmers Wear? Wondering what swim goggles your favorite swimmers use on race day? Here's a breakdown of the preferred goggles of the fastest swimmers on the planet.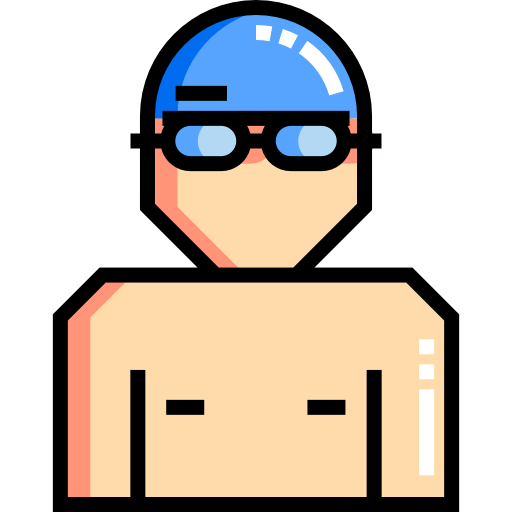 Beau Cormier is a former NCAA I swimmer, US Open National finalist, and swim nerd. When not swimming or working for a data company, you can find him running the trails of the Pacific Northwest with his wife and dogs.